Having fallen in love with Koh Phangan, we added two nights to our stay. This morning we started with another intense workout utilizing the hill leading to our resort.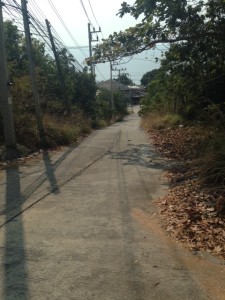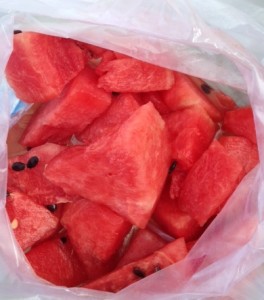 Our original plan was to go to a new restaurant for every meal but Big Mountain has such a great menu and is so inexpensive we return for breakfast. A walk to the restaurant leads to disappointment – breakfast doesn't start until 10am. Rather than go somewhere else we take watermelon and yogurt to the pool to read for an hour. When we finally sit down to breakfast we are not disappointed: carrot juice, banana/pineapple shake, bean burger, 2 salads, and fried egg/veggie rice.  With full bellies and sweaty bodies, we go for a little scooter ride to cool off.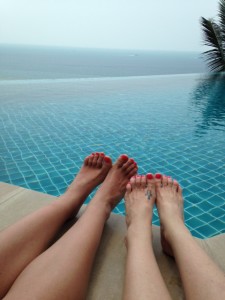 Back at the pool we spend the afternoon swimming, reading and rotating for our tans. Our favorite time of day comes around 4pm when the most intense heat of the day passes. It's a great time for adventuring! We hop on our scooter and head south down the coast to Thonsala for some more market shopping. We were tempted by several food stands (check out the variety of fried insects below) but settled on a quick veggie juice instead.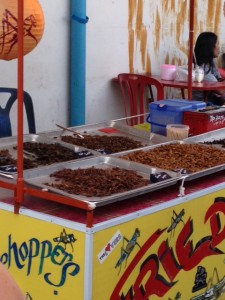 Our final destination was a little village at the southern tip of the island called Baan Tai in search of the perfect fresh fish dinner.  We were chased by a muzzled dog on our scooter but Emma's expert race car driving skills allowed us to outmaneuver him. The two fish restaurants we'd read about in Baan Tai weren't what we were looking for and the village was a much busier version of what we were expecting so we decided to venture back to "our" section of the island. We stopped briefly at an outdoor food market, clearly a spot for "locals", and picked up some fresh mango for the morning.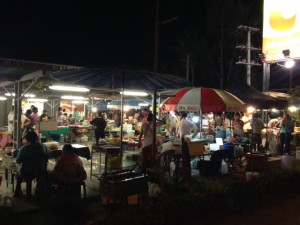 Finally we found ourselves back at Big Mountain – I think you can call us regulars by now –  for fresh fish (White Snapper), ginger veggies, brown rice, and steamed spring rolls. It was a beautiful evening under the clear night sky. Although Emma has managed to stay up until 11pm the past few nights, I still crashed shortly after 10pm anticipating our next (and last) full day in Phangan.