In the first post of our new spotlight feature we introduce you to Cynthia Cosulich, a long term member at Elements Academy who recently added personal training to her regular schedule. Join us weekly as we explore the benefits of personal training, why to seek it out, and tips on how to choose the right trainer for you.
We will also give you the chance with each post to nominate a friend to win 3 free personal training sessions at Elements Academy. Like our Facebook page, share our post and comment why your friend would benefit from this giveaway!
Q. Cynthia, why did you decide to add personal training to your current training regimen?
I had never done any personal training before but I decided to talk to my daughter about doing it together when when my regular schedule changed. I really wanted to keep training three times a week and I thought it would be something fun she and I could do together.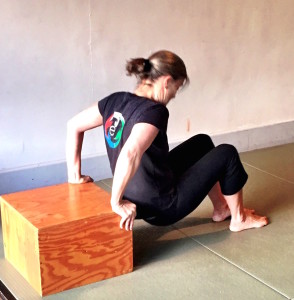 Q. Why do you like personal training?
I train twice a week in Women's Kickboxing at Elements and I love the warm, social environment of these classes. But personal training is very good for learning and developing my strength. My sessions focus on the finer points of training. I like understanding the full benefits of each exercise and having someone telling me exactly what I should be doing. The time is about me (and Florence) and how to do things correctly. I feel I would not be able to keep up as well as I do in Kickboxing without the personal training.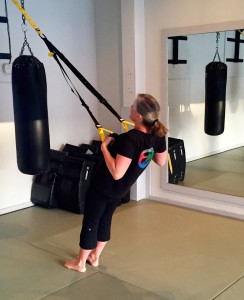 Q. Now that you have been doing personal training for over 6 months, what benefits have you seen for yourself?
I have really benefited from the technical instruction when using weights. It is important for me to maintain muscle mass as I get older. I feel like I am getting stronger and I can see improvement in other areas too like my balance. I lead a healthy life overall but the training keeps me healthier.
Q. What have been some of your challenges?
I was surprised that I couldn't lift as much weight as my daughter. It created a drive in me; I wanted to be able to lift heavier weights. I remember the first time my trainer asked me to lift a 30 lb kettlebell, I thought "good grief, how am I going to be able to do this?" Now I can press 30 lbs over my head and I see that as a real accomplishment.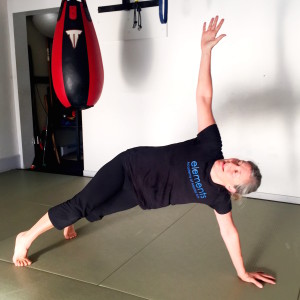 Q. Who would you recommend personal training to?
Personal training is great for people who want to receive training that is individualized to their needs and interests and being able to train around your schedule can be critical when making time to work out. The one-on-one time you get with a knowledgeable instructor in a personal training session is invaluable, plus you can still have lots of fun while getting a creative, hard workout.