Our last full day on Koh Phangan and we saved the best till last – a 4-hour cooking course with Cherry at C&M Thai Culture Center. We were forewarned not to eat breakfast so we took some fresh mango, yoghurt, and a piece of coconut pound cake to the pool where we…you guessed it: read our books in the growing heat.
We left the resort a little early and stopped at "Cookie", a local favorite coffee shop. With our iced coffees bagged and ready to go we sped off to meet our instructor and fellow cooking students. Cooking alongside Mysha and I were 3 couples from Germany. We were so happy to find they were wonderful people to spend the day with. We all hit it off and had a lovely time prepping, cooking, chatting and laughing.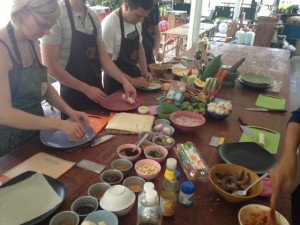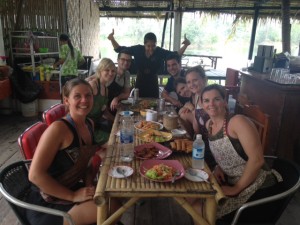 The star of the show was our amazing instructor Cherry who was absolutely delightful and hilarious. Her laugh went on forever and her silliness and warmth infected us as she led us through countless dishes. She educated us on local food, the finesse of preparing it, and shared the delicate, free and creative style of her cooking expertise with us.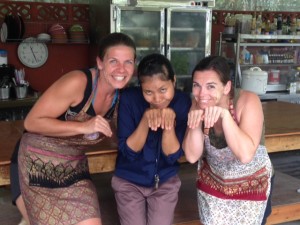 Mysha and I had pre-selected 5 dishes we wanted to make but because we were paired with another group we were able to expand our menu extensively. In total we made: Pad Thai, Spring Rolls, Fish Cakes, 'No-Name' (think veggie pakora), Chicken with Cashew, Green Curry, Massaman Curry, Coconut Soup, and Tom Yam soup. We feasted at intervals and shared in great conversation while we tasted each others' dishes.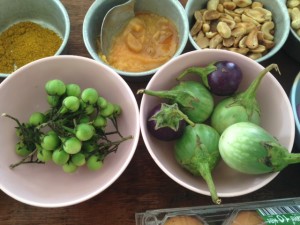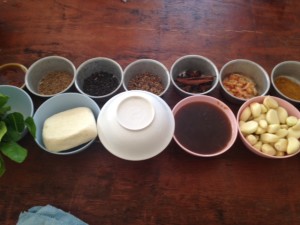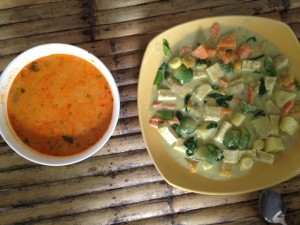 Cherry finished off the day by answering our many questions about Thai culture, language, and even played a little quiz with us awarding cooking tools as prizes. As we were leaving we popped into the Center's gift shop to discover Cherry's other great talent: jewellery making. She educated us on the various stones and their meanings and we both left with cherished purchases.
Exhausted and overheated from the day's adventure (and bellies stuffed), we spent the late afternoon in our favorite spots by the pool – complete with a cocktail and a final, perfect sunset on Koh Phangan and the fabulous Sunset Hill Resort!