We almost skipped today's post out of respect for our friends, families and members – we still want people to like us when we, eventually, come home. But in the hopes you forgive us, let us bring you to Koh Phangan – a true paradise.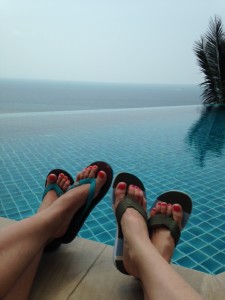 Although we now always sleep past 5am we love getting a jump on the day.  I joined Emma for a workout this morning: several unpleasant sprints up and down the steep hill to our resort and some strength training. Then we readied ourselves for a day of adventure.
The resort organized a scooter for us (yay!) and we were off to explore with our own set of wheels.  We cruised the main, winding road south until we came to Karma Cafe, which I'd spotted yesterday. This awesome restaurant boasts organic vegetarian food and is owned by a brother and sister from California. New to the island this place is sure to be a success that we can visit in future years. Our first non-Thai meal and it was absolutely delicious!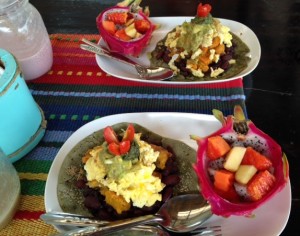 Even with full bellies we were craving coffee so we made another stop at what at first appeared to be a simple roadside "shack" but was actually an amazing beachfront cafe with glowing white sand and a giant swing! They didn't have coffee in a bag (it's a thing here) but we had no complaints about our iced vanilla coffees.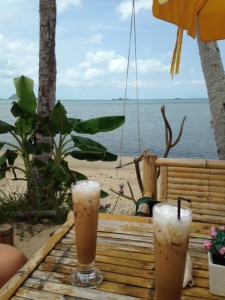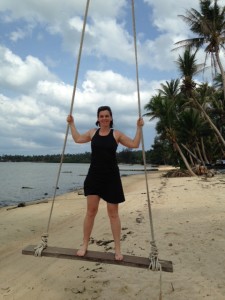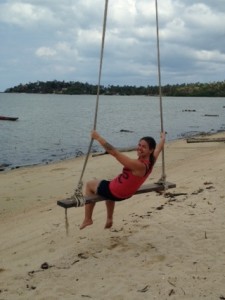 Emma is on a serious tanning mission and a full afternoon relaxing and reading by the pool was in order. We watched the coming and going of many people and outlasted them all. We were briefly entertained by a smiling Vancouverite who has been traveling full-time for 2 years. He shared a lot about the island and his own traveling adventures including a bad scooter accident that is forcing him home in the next month.
At
5:00pm
we ventured out in search of the famous night market, a daily evening experience but on Saturdays an additional "Walking Street" market is said to be extra special. We sampled excellent (and cheap) street food, drank delicious veggie/fruit juices and explored the local merchandise. As usual we found ways to amuse ourselves!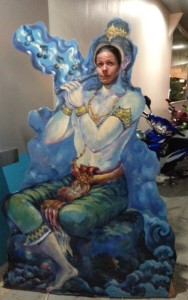 Emma and I both made some special purchases with a local craftsman in our wanderings (www.lek-art.com). Back into the main market for a 2nd round of yummy food before heading home for bed. We'll be back though.