Today was our first full day on Koh Tao (koh means island). We woke up, as per our usual, around 4:30am. Our room at the Mondalay only has a fan – no air conditioning – so to cool off we decided to go for an early morning swim at 6am. The pool was being cleaned so we walked up the beach and watched the sunrise for a while and then came back for our swim.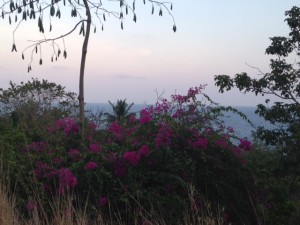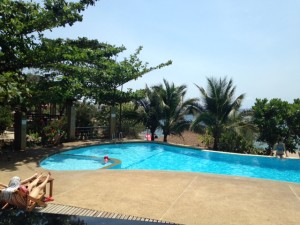 The big plan for the day was snorkeling. I am not a fan of ocean life per se but the beach at Tanote is shallow and clear and I hadn't seen any jellyfish yet so I shelved my anxieties. We rented a couple of snorkeling masks before walking to the far end of the beach for a delicious breakfast of fruit and yogurt, and a side of Thai coffee!
After breakfast we found a little spot on the beach to read in the sun and when we couldn't take the heat any more we grabbed our masks and took to the water. At first the coral and little fishes were very close to the surface and I got a little panicky but soon the ocean floor dropped about 6 feet and I could breath more deeply. It really was a beautiful display of small and medium sized fish in blues, greens and purples. One fish completely knocked me out with its neon colours. It is hard to believe those colours can exist in nature; I thought I was back in the 80s!
When we were done ogling the fishies we returned to the beach for more reading in the sun. The morning got hotter and hotter so we alternated tanning with cooling dips in the ocean. After a short siesta break in our room we headed poolside for our favorite island drink: coconut shakes with rum. At the pool we met a lovely couple – Carmen and Patrick from Heidelberg, Germany. Carmen was in a scooter accident that morning and was bandaged up but in high spirits. We had a great conversation and really connected. As it turns out she is a master baker and chocolatier and loves Vancouver!
As usual our bellies told us it was time to move on and find some food so we headed back down the beach to a little hut where we enjoyed watermelon shakes and fresh salads (green papaya for me and chicken for Emma). It turns out chicken salad just means a plate of heaped, diced chicken!
Although it was hard to pull ourselves away from the beach it was time to take our taxi (a pickup truck with benches in the back) to Sairee Beach for a new adventure.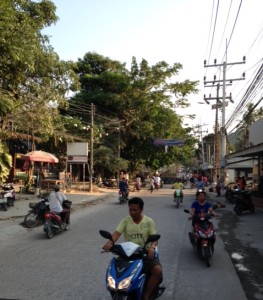 Sairee was very busy and our general impression was not high. The village area catered to a party crowd and the shops mainly carried the same tops and dresses you see everywhere in Thailand but a few unique boutiques caught our eye and we both came away with a few treasures. We skipped dinner (shocking!) and indulged in mango and sticky rice instead – a delicacy only offered in March and April during mango season. We capped off our night with massages – not the best massages either of us have had in Thailand but it's hard to complain too much about a $12 1-hour massage.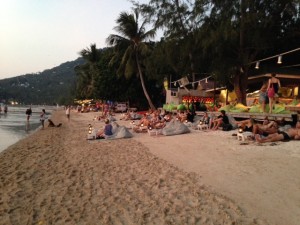 At 9:30pm our taxi picked us up and swept us home to bed.