Our day started early (3:30am) but we seem to be consistently adding an hour of sleep each night. A rare freshness in the air prompted us to take a walk down the road into the unknown before breakfast. A number of mangy wild dogs crossed our path almost making us turn back but we decided to continue on (once I found a good sized rock to hold). Our walk was breathtaking leading us through rural farmland and friendly locals towards a promised "Chocolate House". We were disappointed to discover the Chocolate House was just a set of apartments and not a breakfast option but the walk was a great start to our day.
Back at the Hidden Resort we sat down to a Thai-inspired breakfast and delicious fruit and yogurt shakes. Our wonderful hosts, two Thai sisters who opened the resort together about 1 year ago, gave us a ride to the bus terminal and made sure we got tickets for the right bus to our next destination: Chumphon.
Our two transportation options were a 4-hour bus or a 2-hour mini bus. It seemed like a no brainer… The mini bus was just a van with 13 people crammed inside and a driver with a need for speed. Driving at top speeds over questionable highways and often into oncoming traffic while trying to overtake trucks and scooters, we covered the distance praying for our lives. I had never felt so sick in my life and Emma suffered along beside me.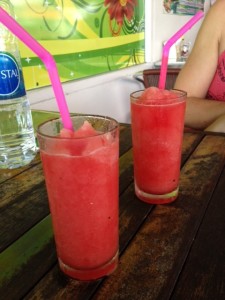 When we finally arrived in Chumphon we realized we had no idea when or where to get off until our driver pointed at us and told us to get out. We were here. Chumphon is a much bigger and busier city but we were excited to see lots of restaurants and shops. Emma amazingly found us the perfect person to talk to, a woman who owned a small travel shop. R (we debated on the pronunciation of her name and the relevance of it being one letter) sold us our ferry tickets for the island, gave us a map and watched our bags while we went to grab lunch. Then she drove us to our hotel…the Pueanjai Boutique Resort and Spa. How to describe this experience? In Emma's words it was like Chucky Cheese for adults.
After checking in I left Emma in the room to explore. The expansive grounds were covered with bizarre statues and displays that begged to be photographed.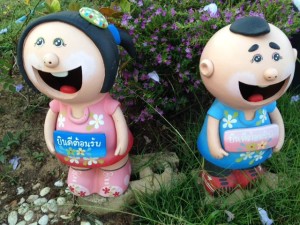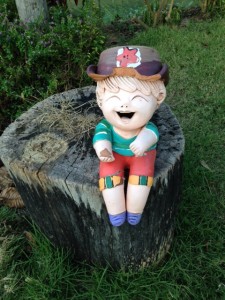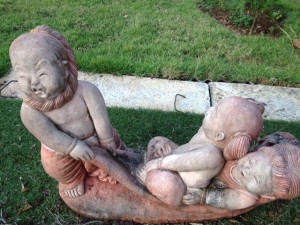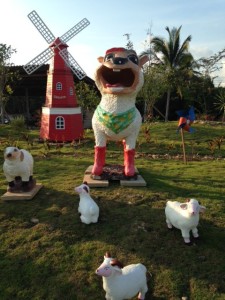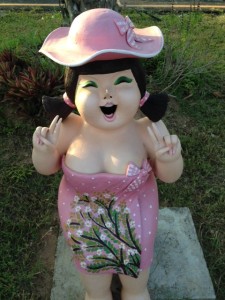 After dark Emma and I went for dinner at our hotel restaurant: a collection of gazebos on a small lake connected boardwalks. Sounds pretty, right? The lake was infested with koi who swarmed like piranhas and we were serenaded throughout our less than memorable dinner of (possibly frozen) vegetables and french fries by korean-esque karaoke singers. We did our best to keep bringing the fun but Chumphon was not wowing us yet! We'll see what tomorrow brings.