When an unexpected injury forced us to reconsider our Muay Thai training trip this year we had no idea the adventure we were about to undertake. Emma and I have been to Phuket a number of times but this year we are traveling further North to experience more of the beauty and wonder that Thailand has to offer.
Our first night in Old Phuket Town was nothing more than a quick sleep and a leisurely morning stroll before catching a bus to Ranong (some 6.5 hours North). Old Phuket Town did not do much to take away our breath unless you count the many sidewalk dog poo piles. We were definitely excited for our first Thai meal though, a decent breakfast buffet at the Sino House Hotel.
We taxied to the bus station – making a promise to work on our bartering over the duration of this trip – and after buying our tickets decided to drag our luggage across a busy intersection to the local Super Cheap. Think Costco meets WalMart…I lasted 3 minutes before hightailing it out of there.
Our bus ride was comfortable…but long! We got close to some of our travel mates, close enough to smell B.O. and hear phlegmy snorts, but it wasn't until just outside of Ranong that we started chatting with a Burmese monk who was all smiles and had very poor English.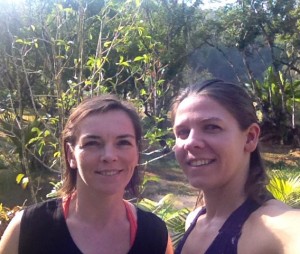 When we finally arrived in Ranong we were reintroduced to the heat of late afternoon and wandered the main street by the bus station looking for food.  Finding nothing, we happened upon the local Tourist Police who lived up to their reputation of being our "First Friends" in Ranong. Emma charmed them quickly and soon one of them was driving us to our appropriately named Hidden Resort in his van.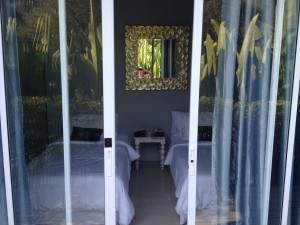 We were immediately taken with this quiet, serene hotel. Our room is at the very end of a boardwalk and floor-to-ceiling, wall-to-wall windows give us a view of jungle and sky from our beds. We quickly headed back to the outdoor restaurant to sip (chug) Passionfruit and standard Mojitos and feast on steamed veggies.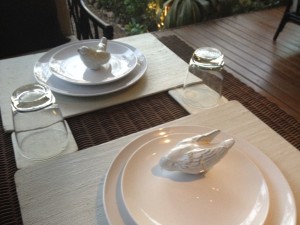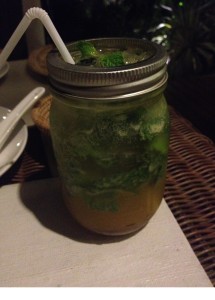 Back in our room exhaustion hit us and we were both asleep shortly after 8pm only to wake up refreshed and ready for a new day at 1:30am!!! Luckily we found sleep again around 5 to dream of our next day's adventures!